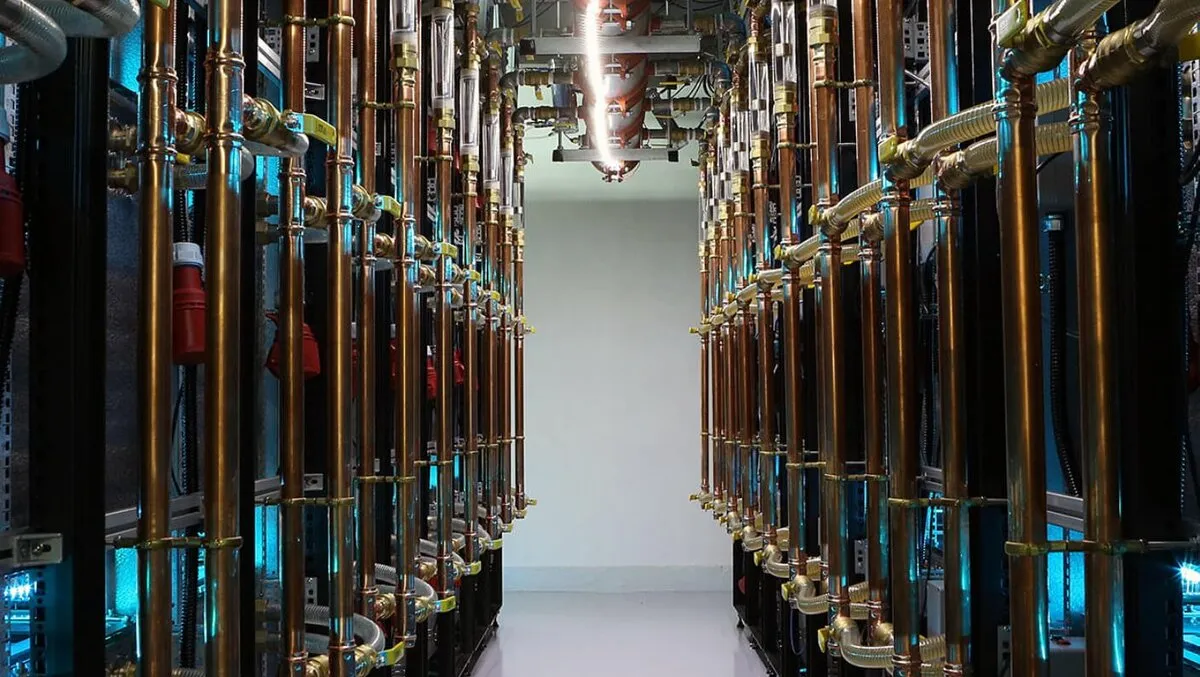 LiquidStack debuts new liquid immersion DC cooling solutions
LiquidStack, a global frontrunner in liquid immersion cooling technology for data centres, has unveiled its new MicroModular and MegaModular turnkey data centre solutions. Now available for order, these precinct solutions offer the highest density, most cost-efficient, and sustainable liquid cooling technology on the market. The MicroModular accommodates a single 48U DataTank, suitable for local edge applications, whilst the MegaModular holds up to six 48U DataTanks for regional edge applications. LiquidStack's innovative systems enable businesses to rapidly deploy compute at the local and regional edge while reaping considerable energy efficiency, heat rejection and water-saving benefits.
The new edge computing solutions have been designed in collaboration with Trane by Trane Technologies. Known globally for their climate innovation and sustainable heating, ventilation, and air conditioning (HVAC) solutions, Trane Technologies recently invested in LiquidStack to encourage the adoption of their pioneering liquid cooling technology. Hence, the new modular solutions arrive fitted with Trane's superior heat rejection equipment, harmoniously integrated with Trane's heat reuse technology.
With the current valuation of the edge computing market standing at $53.6 billion USD and expected to reach $111.3 billion USD within the next five years, there is an exponential increase in demand for edge-optimised solutions. Modular data centres have emerged as a prime edge solution due to their space efficiency, predictable performance, rapid deployment and scalability.
"As demand for AI escalates, higher compute densities are emerging. This, combined with an increase in demand for AI at the edge, makes liquid immersion cooling attractive. Traditional air-cooling doesn't scale well in prefabricated data centres and has much lower thermal conductivity than liquid," said Joe Capes, CEO, LiquidStack. "Recognizing this, we made our best-in-class liquid cooling technology available in modular form factors. Our MicroModular and MegaModular prefabricated modular products are the fastest and least disruptive way to adopt liquid cooling for AI and edge."
LiquidStack's MicroModular and MegaModular solutions provide several benefits, including compact and powerful modules offering 250kW to 1.5MW of compute power within a single module, unmatched efficiency of liquid immersion cooling with an industry-leading PUE of 1.02, potential for zero water usage, rapid deployability, customer-specific configuration, and sustainability options including heat reuse and microgrid technologies. They are suitable for a wide range of requirements, such as telecommunications, colocation, high-performance computing, hybrid cloud and small enterprise. These modular products are also suitable for retrofitting existing data centre infrastructure.
Built specifically for AI and advanced cloud computing applications, LiquidStack's modular solutions are ideal for local and regional edge. They are capable of effectively dealing with hi-flux chips and over-clocking in even the harshest and hottest conditions. These solutions can be deployed in areas otherwise deemed too challenging or too small to consider. Their modular form factor allows hardware ecosystem vendors to save on design time and costs and end-users to save on capital and operating expenses while reducing emissions and enhancing sustainability.
Ready for order now, with shipping commencing in January 2024, LiquidStack's modular solutions can be deployed across the globe. About LiquidStack, it is the esteemed leader in liquid immersion cooling for information technology hardware, telecommunications, and blockchain systems, continuously serving as the backbone for highly scalable and environmentally safe hyperscale data centres.