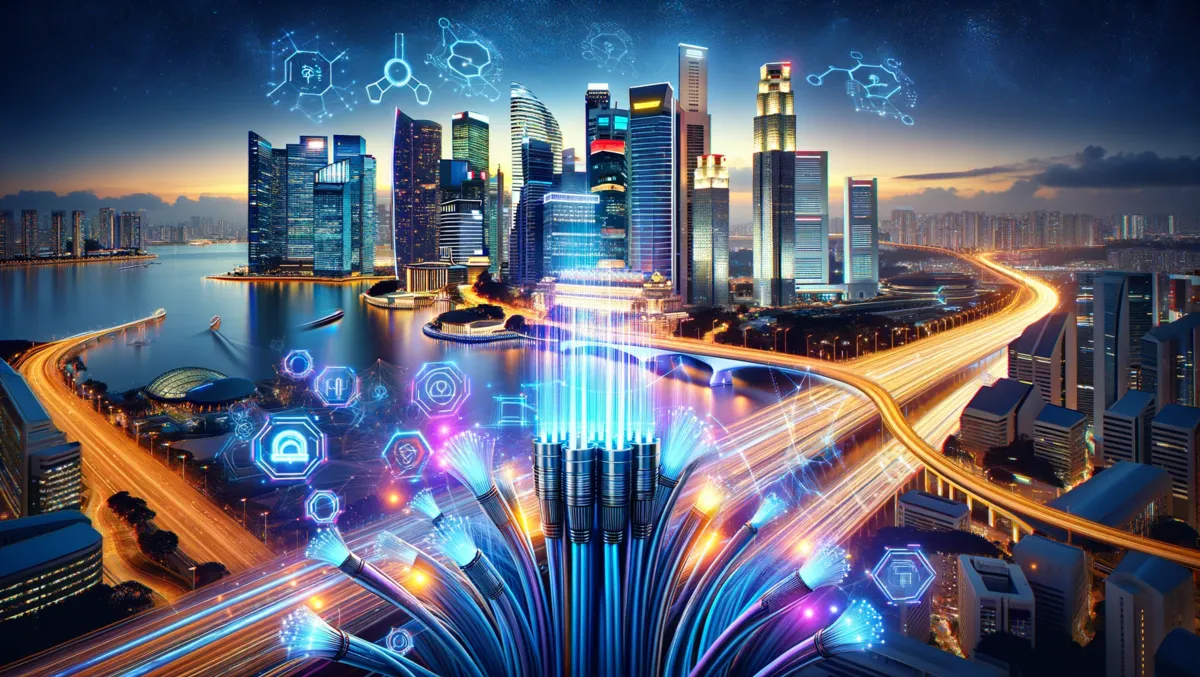 SpeQtral & SPTel to construct Singapore's first quantum-safe network
Fri, 17th Nov 2023
By Tom Raynel, Managing Editor
SpeQtral and SPTel, a joint venture company of ST Engineering and SP Group, are set to build Singapore's first nationwide quantum-safe network. This news follows their appointment by the Infocomm Media Development Authority of Singapore (IMDA) for the construction of the National Quantum-Safe Network Plus (NQSN+).
The NQSN+ will be a quantum-safe network offering a level of data protection unlike any seen before for critical government and commercial applications. Utilising quantum cryptography, the network will achieve unprecedented levels of security. The inherent properties of quantum particles will be harnessed for data encryption to secure the transmission of sensitive information and enhance security against cryptographic attacks.
SPTel and SpeQtral's appointment to build the NQSN+ comes after their successful trials in quantum-secure networks on SPTel's diverse fibre network in 2022. Combining SPTel's capabilities and proven track record in constructing diverse networks with SpeQtral's expertise in Quantum Key Distribution (QKD) technology, the aim is to advance the development of a secure and resilient NQSN+. This would foster a safer digital environment for both public and private sector organisations in Singapore.
Titus Yong, CEO of SPTel, expressed his delight at their appointment by IMDA to build the NQSN+ saying, "This appointment reflects our unwavering commitment in driving innovation in data communications security. Our work for the NQSN+ strengthens our secured telecommunications portfolio which includes clean-pipe connectivity and virtualised cybersecurity solutions-on-demand, positioning us well to offer future innovative quantum security solutions."
SpeQtral's Co-Founder and CEO, Lum Chune Yang, also shared his enthusiasm on the appointment; "Being part of the NQSN+ project reaffirms our status as a trailblazer and industry leader in quantum communications. Our partnership with SPTel will enable us to deliver cutting-edge quantum solutions across SPTel's diverse telecommunications network, bolstering Singapore's security in network infrastructure."
Dr Ong Chen Hui, Assistant Chief Executive, BizTech Group, IMDA, added, "We are excited to kickstart the launch of Southeast Asia's first quantum-safe network infrastructure. IMDA's NQSN+ will help to realise Singapore's vision of a quantum-safe nation, building our nation's capabilities in this space."
SPTel and SpeQtral will ensure the highest levels of data security and reliability of the NQSN+. They will also collaborate with strategic industry partners including ST Engineering in the area of Quantum-ready encryptors to strengthen the overall security posture of NQSN+, and Toshiba Digital Solutions for its QKD system.